TwoNav Cross Europe
Cross, the new multisport GPS from TwoNav
Our ambassadors test the new GPS on individual challenges, in different European locations. Multiple disciplines for a single GPS. Ready for action? The #CrossChallenge begins!
THE CHALLENGE
TwoNav is back in action, this time throughout Europe. More challenges, more sports... and more ambition
After two big challenges (Trail 2 Challenge and Aventura 2 Challenge), the global pandemic of COVID-19 forces us to be cautious and practice sports individually and with extreme safety. We are going to take advantage of these three factors (social distance, safety and sport) to do a different and equally ambitious challenge.
The idea is very simple: 1 GPS Cross for an entire continent
We have given a GPS Cross to our ambassadors (yes, only 1 device). This device has left the TwoNav facilities (Arenys de Mar, Spain) and will cross the entire European continent.
How will we do it? Due to current restrictions, ambassadors will stay in their home countries, where they will test the new Cross. They will then pass the Cross from hand to hand to the next ambassador, always with the corresponding precautions.
Thus, until reaching the point of origin again, the TwoNav offices. A continental relay race that will allow us to put the stamp on it:
Cross, tested in action!
AMBASSADORS
Meet the Ambassadors participating in the challenge
These are the brave people who will participate in TwoNav Cross Europe. They represent sports as different as MTB, road bike, Gravel, Kayak, Hiking, Mountaineering... They will be in charge of doing the relays and taking Cross back to the starting point. At the end of the challenge, it will be our ambassadors who certify Cross's success.
Let the challenge begin!
#CrossChallenge
TWONAV ECOSYSTEM
A smart Ecosystem for demanding athletes
Cross is part of an Ecosystem of tools that helps achieve a complete and satisfactory outdoor experience from start to finish. These are the 4 keys of the TwoNav Ecosystem: Preparation, Precision, Monitoring and Analysis
Storing and analyzing tracks
Online routes partners
IGN Rando, FFCT...
Map Store
Wide variety of maps from all over the world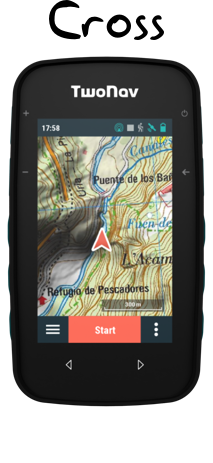 Creating and analyzing routes
Emergency alerts and Data transmission
Support App
NEW GPS CROSS
Small and tough for multiple sports
Cross, TwoNav's smallest GPS. Compact and handy navigator in one hand. Multisport GPS receiver, ideal for both hiking and cycling. Cross is a versatile GPS designed to offer maximum reliability and endurance for your mountain activities
Meets MIL-STD-810 standards for temperature, shock, water and vibration
Gorilla Glass Optical Bonding Screen (3.2 ")
Longer battery life (20 h)
Light weight 172 gr
Dimensions 110 x 63 x 21 mm
2 front + 4 side buttons
32 GB internal memory
Wi-Fi + Bluetooth connection
GPS + Glonass + Galileo signals
Compatible with ANT + and BLE sensors
3 years free of SeeMe™ Transmission and Emergency Alerts
More information